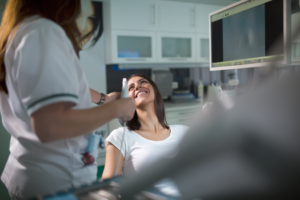 If your dentist has just informed you that you're going to need to undergo root canal therapy, you might have a lot on your mind—it's very possible that you've heard through the grapevine that root canals are nerve-wracking and painful, but this isn't the case at all. In fact, the treatment actually provides your tooth with the best possible odds of remaining inside your mouth! That said, you might have questions about how long you'll be seated in the recovery chair and how much time you'll spend recuperating. Here's some useful information from your dentist to give you the confidence you need to commit to this beneficial treatment!
A Quick Overview of Root Canal Therapy
The purpose of root canal therapy is to remove a damaged or decayed portion of a compromised tooth in order to restore it to healthy, functioning order. It's the go-to solution for serious cavities and instances of tooth decay, as it allows the tooth to be fortified and preserved, rather than removed and replaced.
The process is quite straightforward; your dentist carefully removes the damaged tissue from the tooth, sanitizes and cleans it, and then seals it back up with a restoration like a dental crown to strengthen it and ensure it can remain inside the mouth without issue. Root canals are very common—around 15 million are performed every year in the US!
The Expected Length of the Root Canal Process
Generally speaking, root canal therapy takes anywhere from 1 hour to 3 hours to complete, depending on the severity of the case and the teeth being treated. For instance, molars take slightly longer to treat compared to canines or incisors, and severely compromised teeth might need more thorough treatment that entails two visits. However, it's most often able to be completed in one single appointment, and the majority of patients are able to resume their daily routine immediately after the procedure.
What to Expect While Recovering from Root Canal Therapy
Since the first thing your dentist or endodontist will do when carrying out root canal therapy is numb your mouth, you won't have to worry about feeling any outright pain—in fact, most people compare the procedure to receiving a dental filling. However, you can expect some initial discomfort and soreness following the procedure, after the anesthetic has worn off. This can last for a few days but will begin to wane over time, and it can often be effectively managed with over-the-counter pain relievers, cold compresses, and other at-home remedies. Also, be sure to follow any instructions provided by your dentist; you wouldn't want to have to go back for retreatment due to a silly mishap on your part!
About the Author
Dr. Richard Carlson has proudly served patients in the Jacksonville, FL community for several years, and he looks forward to helping you and your family with all of your dental needs! Dr. Carlson received his dental doctorate from the University of Florida College of Dentistry and is a member of several notable professional organizations, including the American Dental Association, the Florida Dental Association, and the renowned Academy of General Dentistry. If you have any questions about the blog or you'd like to schedule an appointment, feel free to contact his practice online or over the phone for assistance. Bartram Park Office Telephone: (904) 262-8409.