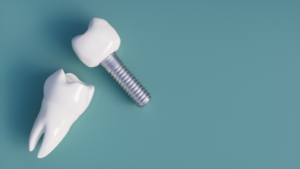 When it comes to tooth replacement, there is perhaps no option that rivals dental implants; the ingenious posts fully replicate the entire structure of lost teeth, meaning that oral functionality and beauty are fully restored. But can dental implants suffer from the same problems as your natural teeth, such as decay and cavities? Here's what your dentist wants you to know.
Can Dental Implants Get Cavities?
The short answer here is no, dental implants cannot get cavities like your natural teeth can! This is thanks to the materials that they're composed of; the implant posts are generally made from titanium, a biocompatible metal that's renowned for its strength as well as its ability to bond with the jawbone. The crown portion of the implant is usually made of porcelain, which is also resistant to decay. This means that your replacement teeth can't ever get cavities!
However, it's still important to maintain great oral hygiene with dental implants—even though the implants can't get cavities, they are still susceptible to damage, and plaque can build up on their surface Not to mention, the rest of your mouth is still vulnerable to other types of oral health issues like gum disease.
Tips for Keeping Your Implants in Great Shape
Here are some tips to help you keep your mouth in great shape—by doing so, you'll ensure your implants last and are safe from other problems aside from cavities:
Brush your teeth twice a day for two minutes each time; this is an important habit whether you have implants or not and is the best way to prevent oral health problems at home.
Don't skip flossing—it's just as important as brushing and is instrumental in preventing gum disease, which is arguably the biggest threat to dental implants.
Be mindful of what you're eating; the right diet can go a long way when it comes to oral wellness, and avoiding sugary and starchy items and opting for healthy choices is advisable.
Drink plenty of water; this is by far the best beverage for your oral health and encourages the flow of saliva, which helps you fight disease-causing bacteria.
Keep up with your routine dental checkups so that your provider can continue to monitor your implants and ensure there aren't any problems; though they can't get cavities, something else could be lying in wait to cause you issues!
About the Practice
The team at Carlson Dental Group is thrilled to provide an exceptional level of service for patients and families in the Bartram Park and Riverside areas. They offer a comprehensive range of services including restorative options like dental implants. If you have any questions about implants or would like to schedule a visit to see if they can assist with your smile, don't hesitate to contact the practice online or over the phone for assistance: (904) 262-8449.