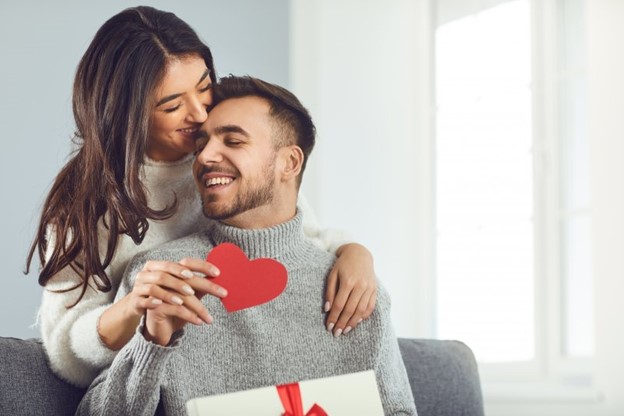 Every February, people all over prepare for a romantic night of love on Valentine's Day. Whether you have been with your partner for a while or have recently started something new, you've likely been focusing on planning out dinner at home or at a nice restaurant, a cute outing, a movie marathon, or another way to celebrate the day. Regardless of what you have in mind, don't forget that your smile is an important part of the equation. To raise your chances of landing a smooch, here are three oral health and hygiene tips that will make you more kissable.
#1: Keep Your Teeth Clean
Brushing and flossing are key to maintaining excellent oral health. These two steps will also help you achieve better smelling breath. This is because they lessen your risk of developing cavities, gum disease, and other oral health issues that may lead to halitosis.
Be sure to brush once in the morning and again before bed. Do so for two minutes each time using fluoride toothpaste and a soft-bristled toothbrush. Additionally, floss at least once daily, preferably after your last meal.
You should also brush your tongue daily or use a tongue scraper to get rid of the bacteria that hide there and cause your breath to smell bad. Using mouth wash, chewing sugarless gum, and sucking on sugar-free breath mints will also increase saliva flow to keep your breath smelling fresher.
#2: Cut Out Smoking & Other Bad Habits
Along with causing a range of oral and overall health issues, smoking can lead to bad breath. The same goes for overconsumption of alcohol. Both of these things can lead to dry mouth, which allows bacteria to thrive. If you need help quitting, contact your dentist, therapist, or doctor and reach out to loved ones for support.
#3: Visit Your Dentist
When is the last time you saw your dentist for a checkup and cleaning? If more than six months have passed since your last appointment, now is the time to set one up. During your dental cleaning, plaque and tartar buildups will be removed from your beam.
Your dentist will also perform a thorough examination of your oral health. If they identify any issues, they will work with you to come up with a treatment plan. They can also give you tips on how to improve your oral health, avoid bad breath, or make your smile look lovelier.
About the Practice
Dr. Khoi Le, Dr. Edward Murray, and Dr. Richard Carlson lead the team at Carlson Dental Group. They give patients a range of exceptional treatment options to choose from, including cosmetic treatments to ensure that your smile looks its best this Valentine's Day. They can also give you tips on how to keep your breath fresh and your smile in good shape. To make an appointment or to learn more, call Carlson Dental Group's Riverside office at (904) 262-8449, their Bartram Park office at (904) 262-8409, or visit their website.