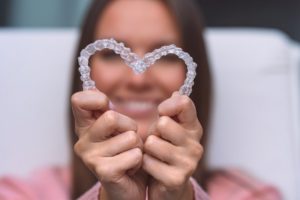 The holidays are full of wonderful times. From visiting family and friends to enjoying all the festive parties, it can be nonstop fun. Unfortunately, it can be easy to allow all the hustle and bustle of the season to interfere with your Invisalign treatment. You want to be sure to stay on track so you can achieve your straighter smile on time! Here are four tips on how to stick with your treatment all throughout the celebrations.
#1. Wear Your Aligners Every Day for the Recommended Time
Your aligners use constant gentle pressure to move your pearly whites into their ideal positions. Therefore, it is essential to wear them at least 20 to 22 hours per day to ensure successful treatment. If you allow the holidays to interfere with the time commitment, your alignment plan can get derailed. It also increases your chances of experiencing discomfort throughout the process. To help you fulfill the recommended wear time, consider setting an alarm on your cell phone to remind you when you need to put your aligners back in.
#2. Brush and Floss After Eating
It's important to brush and floss your teeth after eating—even if it's just a snack– to remove the small food particles that get stuck between them. Neglecting to do so can increase your risk of decay and cavities (even bad breath) and risk delaying your treatment plan. If you plan to travel for the holidays, it's helpful to pack an on-the-go kit that contains a travel-sized toothbrush, toothpaste, and dental floss. You can also include mouthwash for a quick rinse before slipping your aligners back into your mouth.
#3. Keep Your Storage Case on Hand
With all the holiday meals and snacks that are enjoyed with loved ones, it is easy to place your Invisalign aligners in a napkin or on a countertop before digging in. Unfortunately, this can cause your trays to either be misplaced or accidentally thrown away. Without your current set of aligners, this can significantly delay your treatment plan. The good news is you can prevent any mishaps like this from happening by always carrying a designated storage case with you. It will become a natural habit to place your aligners right into your case. Then you can chow down without any worry!
#4. Be Sure to Remove Your Aligners
There are many warm, delicious drinks to enjoy during the festivities, from hot chocolate to apple cider. Unfortunately, you may think it's okay to take a few sips of them while wearing your aligners. However, that can cause severe damage to them. The hot liquid can warp the structure of the trays and interfere with your treatment. If your aligners are bent out of shape, it can cause major discomfort when advancing to the next set because your teeth are not prepared for the next step. So, remember, be sure to always remove your aligners before eating or drinking anything that's not water.
You can still celebrate the magical season with your loved ones and stay on track with your Invisalign treatment. By sticking with these helpful tips, you will achieve your perfect, straight smile in no time!
About the Practice
Carlson Dental Group help the people of Jacksonville achieve the smile of their dreams through the expertise of their team of world-class dentists! With all three dentists accomplishing more training than 98% of general dentists in the country, your pearly whites are in safe hands all year round. To achieve your straighter smile with Invisalign, they use advanced technology and SmartTrack material for optimal comfort. To schedule an appointment, contact them through their website or call (904) 262-8409.