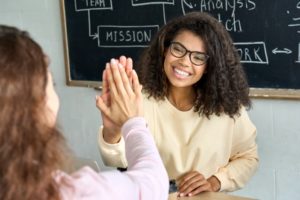 When the calendar flips to August, it means the first day of school is approaching quickly! Most parents might be jumping with joy because their children are returning to the classroom, but if you have a teen with Invisalign, you're probably more worried than excited. Since they'll no longer be under your supervision, you might be wondering how you can make sure they keep track of their treatment throughout the day. Fortunately, there are several ways you can help them do so. Here are a few back-to-school tips from a dentist to help your teen stick with the program.
Pack a Sack Lunch with Soft Foods
Unlike traditional metal braces, there are no dietary restrictions during Invisalign treatment. Although you can eat pretty much anything, the clear aligners might make it difficult to enjoy certain foods. Your teenager's teeth and mouth tend to feel quite sore at the start of new tray cycles, discouraging them from eating. Does your child complain about discomfort? Consider packing them a lunch with soft foods that are easy to eat! Yogurt, oatmeal, soup, and smoothies are just a few excellent, healthy choices.
Use an Aligner Removal Tool
If your teen has a challenging time removing their aligners before lunch, it can also prevent them from eating. The plastic trays are often the tightest and the most difficult to remove at the start of a new cycle. To make removal prompt and painless, consider getting your teen an aligner removal tool. It'll make taking out the aligners a breeze!
Prepare an Oral Hygiene Travel Kit
Everyone knows about the importance of good oral hygiene. However, it's especially important for people wearing Invisalign to keep their mouths clean. Before slipping the aligners back in, your teen must remember to brush and floss their teeth after every meal and snack.
If they don't, food particles can get trapped between their teeth and trays, leading to plaque buildup, decay, and cavities. Help them prevent these issues by packing an oral hygiene travel kit that contains a toothbrush, fluoride toothpaste, and dental floss. They can stash it in their backpack and take it with them everywhere!
Learn to Overcome Common Wear-Time Barriers
For successful treatment, your teen with Invisalign in Jacksonville must meet the mandatory wear time of 20-22 hours a day. Here's how to help them overcome some common wear-time barriers:
Speech Impediments – Although these are completely normal when starting treatment, they can still be quite embarrassing for teenagers. Help them overcome any alterations by encouraging them to speak and offering pointers to improve their speech.
Bad Breath and Dry Mouth – These symptoms aren't curable, but they can be managed. Tell your teen to drink plenty of water, brush and floss after every meal, clean their tongue, and chew sugar-free mints.
Discomfort – Your teen may feel discomfort each time they start a new tray cycle. For relief, tell them to use dental wax and rinse their mouth with peroxide-based mouthwash to soothe mouth sores.
Before the school year starts, go over the tips outlined above with your teen. Knowing how to navigate their treatment on their own will help them feel confident, empowered, and ready to power through their smile journey!
About the Practice
At Carlson Dental Group, we are dedicated to helping you achieve a gorgeous smile as all your dental needs are met in one convenient location. Our dentists can provide specialist-level care at our Bartram Park office. When you need help relaxing, we offer sedation dentistry. If you or your teen are interested in Invisalign, this subtle process can have your smile seeing results in 12-18 months. Schedule a consultation on our website or call (904) 262-8409.