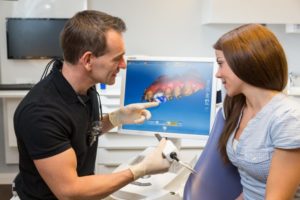 Whether you need to protect a cracked tooth, build up a worn-down tooth, or simply conceal a severely discolored tooth, dental crowns can be quite an effective option. By covering the entire visible part of a tooth, a crown can essentially make it look and feel good as new. One drawback, though, is that getting a crown takes two appointments with several weeks in between. Nowadays, however, CEREC technology has made it possible for your dentist in Jacksonville to design, create, and place a crown in a single visit! Read on to learn how long you can expect getting a CEREC crown to take.
The Same-Day Dental Crown Process
In most cases, making a CEREC crown takes a single appointment that is about two hours long. Dentists are able to accomplish this via an in-office milling machine. After taking digital scans of your tooth, the machine is able to reshape a solid block of dental ceramic into the precise size and shape of a crown that perfectly suits your needs.
CEREC Crowns versus Traditional Crowns
Traditionally, creating a dental crown involved biting down into a putty-like material to create an impression mold, which was sent to an off-site dental lab. Since dental labs are often busy, it could take several weeks for them to get to your crown. In the meantime, you'd wear a flimsy temporary crown to protect your tooth. Once your final crown was ready, you'd have to find the time to fit a second appointment into your schedule.
CEREC technology has improved on practically every aspect of that process. It uses digital impressions that are often more comfortable and precise, and you can avoid the need to wear an awkward temporary for a few weeks. And, of course, you don't need to take extra time out of your busy life for a second trip to the dentist's office.
Do CEREC Crowns Last as Long?
Many patients are concerned that the faster turnaround on CEREC crowns means they're not as high-quality as conventional crowns. However, research has shown that in terms of durability, both CEREC and traditional crowns are quite similar. As long as you stick with your oral hygiene routine and see your dentist for six-month checkups, your crown can easily last for at least 10 to 15 years.
Curious about whether your smile could benefit from a CEREC crown? Reach out to your dentist today to find out!
About the Practice
At Carlson Dental Group, we're committed to providing world-class, convenient care that leaves your smile looking and feeling better than ever. To that end, we proudly offer CEREC same-day dental crowns in Jacksonville, FL. Thanks to our dentists' expertise, you can trust that the process will be smooth and the results will last! To get started on rebuilding your smile with a CEREC crown, contact our office at 904-262-8409.