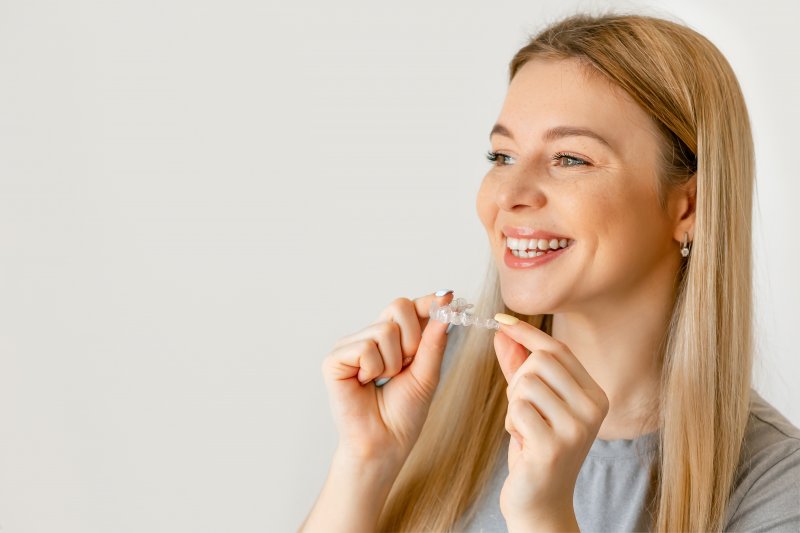 Are you unhappy with your smile? If so, you might be considering getting traditional braces or Invisalign! After going through the orthodontic treatment, you'll be able to enjoy a perfectly straight smile. While they both might offer similar results, clear aligners provide a more discreet method of teeth correction. But are there other key differences in the procedure? Read on to learn three benefits of Invisalign that make the process easier to manage!
Benefit #1: Invisalign Isn't Fused to Your Teeth
While traditional braces require metal brackets that are bonded to the front of your teeth, Invisalign does not. Instead, it relies on a series of clear aligners that are worn two weeks at a time to straighten your smile. This means you'll be able to remove them when you need to, especially when eating or drinking your meals.
Benefit #2: Invisalign Doesn't Use Arch Wires for Correction
Regular metal braces need arch wires to correct your bite pattern. For this reason, you would have to frequently visit your dentist for routine maintenance, or tightening the wires if necessary. With Invisalign, you won't have to go for checkups and adjustments as often, as this is what the series of trays are meant for. This also means they can feel more comfortable than traditional braces, as the design will be much smoother and less clunky for your oral tissues.
Benefit #3: Cleaning Your Teeth Is Easier With Invisalign
One of the most essential parts during any orthodontic treatment is to maintain a proper dental hygiene. However, Invisalign does have the upper hand when it comes to cleaning efficiency and convenience. Since traditional braces have wires and metal brackets in front of your teeth, they can make it difficult to brush and floss your teeth thoroughly. You'll likely need to use additional cleaning tools, such as interdental cleaners, to help clear hard-to-reach places. Invisalign trays would simply need to be removed to clean your teeth normally and effectively.
On top of being nearly invisible while wearing them, Invisalign also offers a smoother and more convenient design for maintaining your dental health. After you've completed your treatment, you can be sure to enjoy your straightened smile for years to come!
About the Author
Dr. Richard Carlson earned his degree from the University of Florida College of Dentistry and has been providing excellent and comprehensive dental care for over 35 years. He's a proud member of various prestigious groups including the Academy of General Dentistry, the American Academy of Esthetic Dentistry, and the Seattle Study Club. While constantly improving his expertise through advanced training, he also offers a vast collection of treatments, such as Invisalign. If you want to know more about the Invisalign process, visit his website or call him at 904-262-8409.