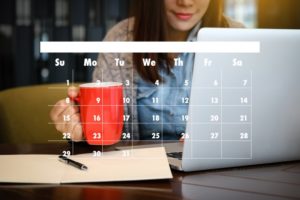 It's finally a new year, and if you're like most others, you probably weren't sad to see 2020 go. Perhaps you've created a list of goals that you would like to personally accomplish this year. While considering where you want to be at the end of 2021, don't forget about prioritizing your smile when it comes to those aspirations. In addition to saving you both money and time, your Jacksonville dentist discusses why scheduling a dental checkup as early as possible in the new year is a great idea.
Reasons Why You Should Schedule Your Next Dental Checkup ASAP
Just like you take your car in for regular oil changes and maintenance, your smile needs to be deep cleaned and look after too. Here are a few reasons why seeing your dentist ASAP this year is something you'll be glad you did:
You'll get more out of your dental insurance benefits.
Most dental insurance plans have a deductible amount that their customers have to pay out of pocket before they begin to cover treatment costs, and yours is likely no different. This is especially helpful for people with multiple others on their plan. The sooner you meet the deductible, the less you have to worry about paying for surprise dental needs that might come up later in the year.
You'll Have More Appointment Options
Your life is busy, and just like your agenda is filling up quickly, so is your dentist's. If you want to make sure that you have plenty of dates and times to choose from that work with your schedule, it's best to get your next appointment in the books as early as possible in the new year.
Early Detection and Prevention
Every time you see your dentist, even if it's for a routine cleaning, they scan your throat and the soft tissues in your mouth for signs of oral cancer. The x-rays they perform also give them a glimpse into the health of your gums and jawbone. The faster a potential issue can be identified, the less expensive and time-consuming the treatments will be.
Do your smile a favor and don't let another month go by without scheduling your next dental checkup. You'll be glad you did!
About the Practice
If you're searching for world-class dental treatment at a practice where you feel valued and listened to, then look no further than the team of doctors at Carlson Advanced Dentistry and Facial Aesthetics. They know all there is to know about keeping your smile healthy, and they can provide you with the knowledge and tools you need to do so. They are highly trained and experienced, allowing them to provide superior quality care. Are you ready to get the ball rolling on prioritizing your teeth this year? You can request an appointment online or call us at (904) 262-8409.