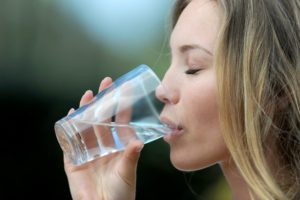 It's common knowledge that toothpaste helps prevent tooth decay because it contains fluoride. However, did you know that same beneficial mineral is probably fortifying your community's drinking water as well? In fact, this has been the norm in the US for over 75 years. While some people are concerned that this is a bad thing, countless studies demonstrate that there is a wide variety of benefits to this tactic. Here are five important ways fluoride in drinking water helps keep your smile strong and sparkling.
1.) Reduces Risk of Tooth Decay
Studies indicate that fluoridated drinking water in the US prevents 25% of cavities in adults and children. In fact, adding fluoride to community drinking water is so effective at preventing tooth decay that the Centers for Disease Control and Prevention named it one of 10 great public health achievements of the 20th century.
2.) Protects Smiles of All Ages
The CDC names tooth decay as the number one most common chronic childhood illness. Thankfully, fluoride is the easiest and most effective means of combating cavities in smiles of all ages. Even though there are plenty of fluoride-containing products, the CDC reports that community water fluoridation is the most cost-effective method of delivering this important mineral to everyone.
3.) Demonstrably Safe & Effective
70 years of rigorous and thorough scientific research shows that fluoride in drinking water is safe for children, adults, and older adults alike. As such, prestigious health organizations such as the World Health Organization, the American Medical Association, and the American Academy of Pediatrics all recommend it.
4.) Lowers the Cost of Caring for Your Smile
According to recent studies, about 51 million school hours and 164 work hours are lost each year because of dental-related illnesses. Fluoride strengthens teeth and protects them from oral health issues that interrupt daily life. What's more, studies report that the average lifetime cost per person to fluoridate a water supply is less than the cost of one filling!
5.) Fluoride Is Already Naturally Present in Water
Fluoride is a naturally occurring mineral that can typically be found in many water sources in nature. Community water systems can adjust the amount of fluoride they contain to meet the recommended levels set forth by the CDC. It's very similar to how other everyday foods and drinks are fortified, such as milk with vitamin D, orange juice with calcium, and bread with folic acid.
Fluoride is an important mineral that helps keep teeth strong and healthy for life. It's addition to your tap water plays a key role in protecting your community's oral health.
About the Practice
While the talented team of Carlson Dental Group can help you overcome nearly any oral health issue, they would much rather help you prevent them from developing in the first place. That's why they encourage patients of all ages to come in for routine checkups and cleanings at least twice a year. With excellent preventive treatments like dental sealants, mouthguards, and fluoride treatments, they aim to keep your smile healthy for life. If you have more questions about fluoride, feel free to contact them via their website or at (904) 262-8409.