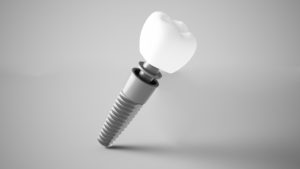 Despite the latest innovations in dentistry, tooth loss is still a real problem. In fact, at least 120 million Americans are missing one or more teeth. Although dentistry can preserve your teeth for longer than ever, people from all walks of life struggle with an incomplete smile, even many of your favorite stars. You might be surprised to learn several top celebrities have treated their tooth loss with dental implants. While you might think they aren't an option for everyone, many people are turning to implants in Jacksonville. You can join your favorite people in Hollywood by rebuilding your smile using the most successful tooth replacement option.
How are Dental Implants Different?
Traditional dental prosthetics only replace the portions of missing teeth visible above the gum line, like a fixed bridge or denture. Although they've undergone several improvements over the years, they'll always have their disadvantages. As a result, over 500,000 people per year are turning to a revolutionary alternative to traditional prosthetics.
A dental implant is unlike any other treatment because it recreates the entire tooth structure, including the root. A titanium post is surgically placed into your jawbone to mimic the root. The bone fuses to the post through a process called osseointegration. This creates a stable foundation for your custom-made restoration, which is attached to the post using an abutment.
What are the Benefits of Dental Implants?
Since a dental implant replaces the entire tooth structure, you'll enjoy unmatched benefits that aren't possible with traditional methods, including:
Over a 95% success rate to last for decades with the right aftercare.
Looks natural using all-ceramic material.
Regain as much as 70% of your natural biting force.
Doesn't rely on other teeth for support.
Eliminates slipping and irritation.
Preserves your jawbone to stop dental drift.
Improves your oral health to lower long-term dental costs.
Supports your facial tissues for a youthful appearance.
Cost-effective because it should never need to be replaced.
Are Dental Implants Right for Me?
If you have good oral and general health, you're likely a candidate for dental implants. You can join many of your favorite celebrities, like Mike Tyson, Christie Brinkley, Ed Helms, and Chris Rock, who replaced their missing teeth using a reliable solution. You'll need a thorough consultation to ensure they are right for you. Besides a visual examination, your implant dentist will also review a CT scan of your oral structures. They'll create a customized treatment plan based on the results of your examination.
Get a Picture-Perfect Smile Today
If you're ready to join the celebrities, take your first step toward improving your confidence with a complete smile. Contact your dentist to see if dental implants are right for you.
About Carlson Advanced Dentistry & Facial Esthetics
Our team at Carlson Advanced Dentistry & Facial Esthetics combines our qualifications and experience to deliver state-of-the-art solutions. We embrace the latest technologies and treatments to resolve even the most complex issues, including tooth loss. If you have missing teeth, contact our office today to schedule your consultation for a complete smile.